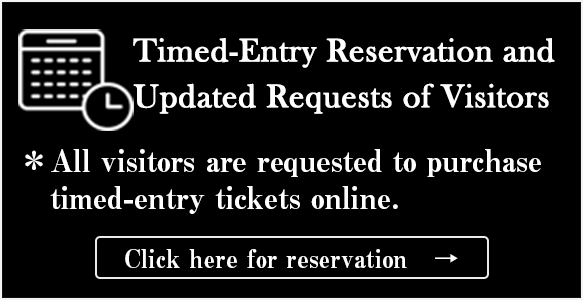 August 2, 2021

【Important Notice – Continued Closure】
The Nezu Museum has been closed, after one of our back-office staff member was tested positive for COVID-19 on Saturday, July 31. As of Monday, August 2, we have obtained a confirmation from the public health agency that there was no staff or visitors who made close contact with the infected staff, and fully sanitized the museum facility and office areas. However, we would like to take sufficient time to make sure that the situation is well under control before we are able to re-open. Therefore, we have decided to close the museum through Sunday, August 8.
At Nezu Museum the health, safety, and comfort of out visitors and staff is our priority. We will continue to implement the measures to prevent the spread of COVID-19.

August 2, 2021

【Refund of Tickets for 8/1-8/8】
All the purchased timed-entry tickets from August 1 through August 8, including free admission for Nezu Club member or holders of invitation postcards, will become void.
Ticket purchase made by credit cards for above dates and timeslots will be refunded. We will e-mail you the detailed information to the mail address you registered at our website accordingly. We apologize for any inconvenience caused, but look forward to welcoming you again soon.

August 2, 2021

【Ticket Sales after 8/9】
For the timed-entry ticket purchase after Monday, August 9th, we will keep you updated at our website taking into consideration of COVID-19 status. We apologize for any inconvenience caused, but will appreciate your understanding.

July 19, 2021 (Updated)

Nezu Museum is closed from Monday, July 12 to Wednesday, July 21. Next exhibition "Cherishing Flowers, Yearning for the Moon: Nature and Beauty in Japan" will start on Thursday, July 22.
Timed-entry tickets of the Museum Collection Exhibition "Cherishing Flowers, Yearning for the Moon: Nature and Beauty in Japan" are currently available from Thursday, July 22 to Sunday, August 8. The tickets from Monday, August 9 through Sunday, August 22 will be on sale from Friday, August 6.

July 11, 2021 (Updated)

【Notice to the press】 Please contact us at press@nezu-muse.or.jp for photographing/filming in the museum building and garden at least 3 days in advance to ensure arrangements. We can only accommodate filming requests related to our current activity, and only during 9am -10am, on museum's working weekdays.
Free press pass is not available. To review exhibitions, please click here.

May 30, 2021 (Updated)

We will extend the expiration date of eligible NEZUCLUB members to compensate for the museum closure period. Please click here for details.

September 19, 2020

For the time being, the opening hours of NEZUCAFÉ is 10 a.m. - 4:30 p.m. (last order: 4:00 p.m.).