HOME > Facility Guide > Garden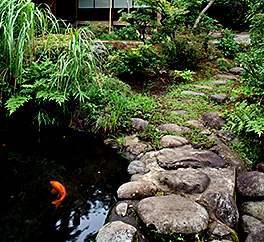 One of the delights of a visit to the Nezu Museum is a stroll through its garden, truly an urban oasis. Go out through the first floor Garden Entrance or the ground floor Teahouse Entrance and follow the stone paved path into the trees. There you will find a teahouse as well as a variety of stone lanterns and other objects. Nezu Kaichirō I purchased this land, which he liked for its hills and dales, in 1906. The original garden, designed in the shinzan-yūkoku、deep mountains and mysterious valleys, style, included rustic buildings and a teahouse. It burned during the bombing of Tokyo in World War II. Since then, it has been restored, little by little, to reach its present state. In recent years, progress has been made in making the stone-paved paths easier to walk on and to add smooth pavement, to make the garden barrier free. Our goal is a garden that expresses the original concept of creating scenes of nature itself and that all our visitors can enjoy. After exploring the works of art on display, enjoy the changing seasons in our richly verdant garden.

Click each of the camera symbols on the Garden Map for panoramic views of the Nezu Museum from every direction. Within each view, left-click on your mouse (or hold down the mouse button) to pan through its full 360 degrees, as you wish. You can also enlarge or shrink the image with your mouse. Then click on another camera symbol to explore a different view.