HOME > Facility Guide > Museum Shop


Along with catalogues of special exhibitions, museum collection, annual bulletins, a variety of original goods are on sale, based on worlds of art held at the Nezu Museum.Core of the original goods are based on the image of national treasure Irises screens. Stationaries based on the Nezu Museum mascot, Double-Ram Zun bronze ware from ancient China are also popular.The new addition is Nylon Bags (A4 size) with "Double-Ram-Zun" motifs, this time in revived colors of "Green" and "Black". We hope a visit to the Museum Shop will make your time in Nezu Museum even more enjoyable. (Use of the Museum Shop is restricted to those who have been admitted to the museum.)

*All prices include tax.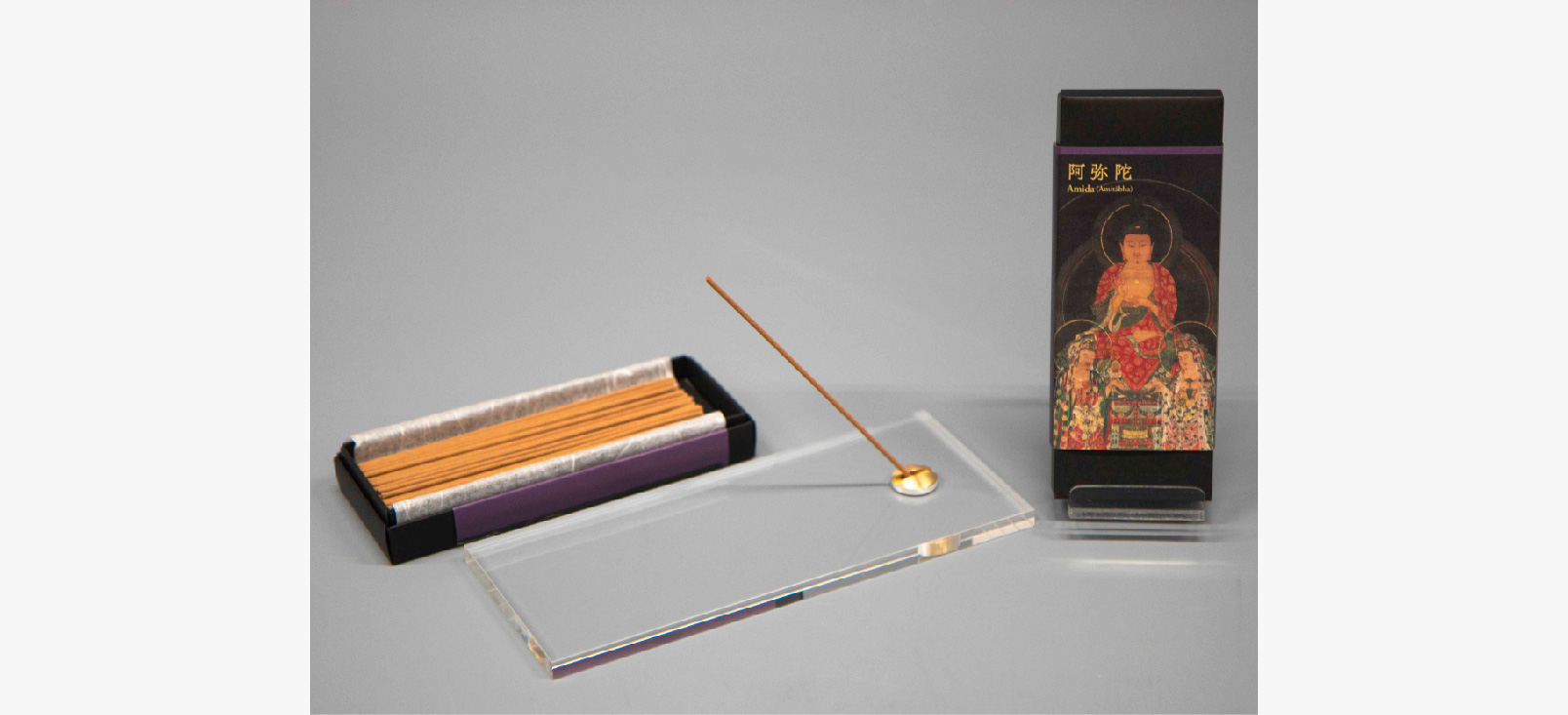 Nezu Original Incense "Amitabha"
The latest addition to our incense line-ups is named "Amitabha" commemorating the current exhibition. Please enjoy the gentle aroma of sandalwood with touch of clove, mastic and lily-of-the-valley.
¥ 1,200
*Incense stand sold separately.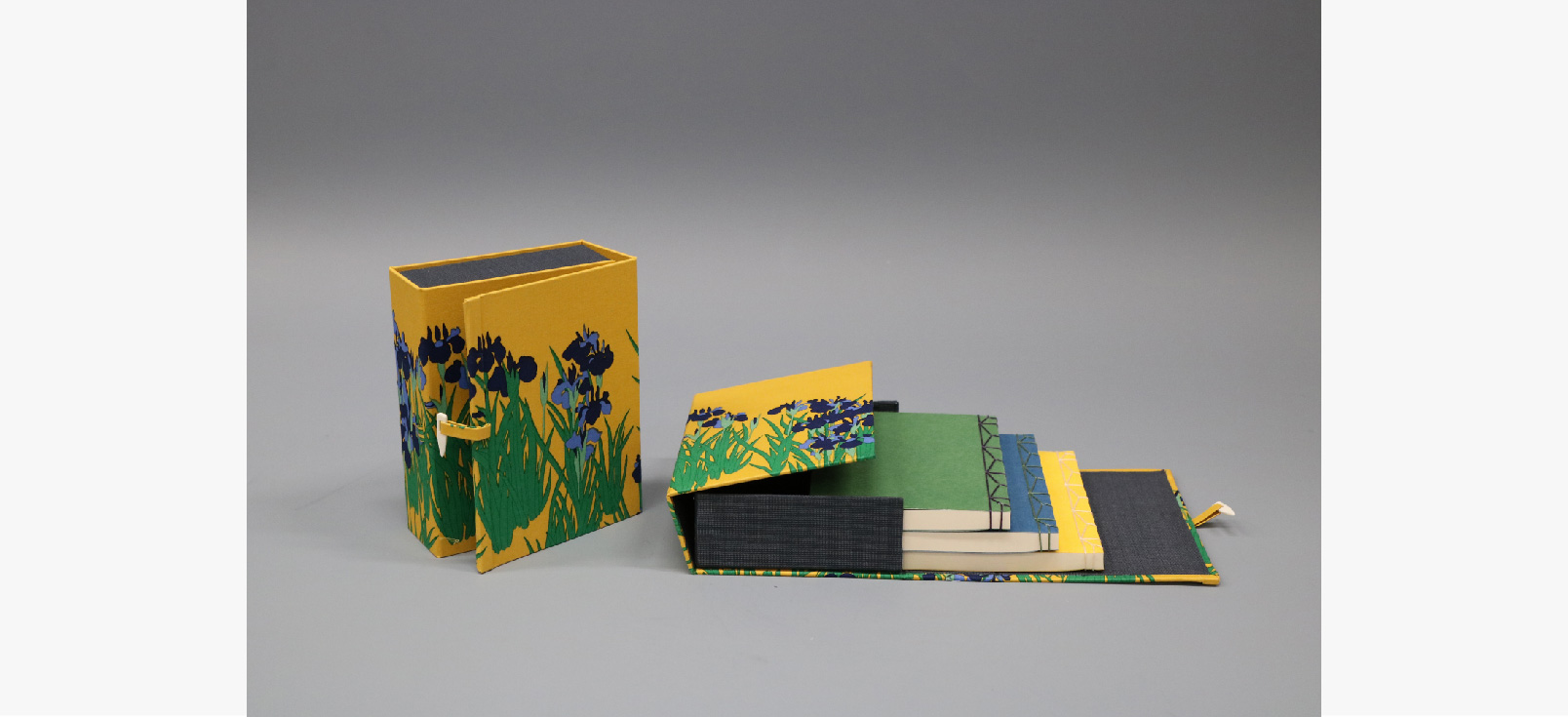 Set of Three Japanese-style Bound Notebooks  Irises
3 notebooks made with hand-made Japanese paper, washi, bound with linen cord in traditional Japanese style, are neatly stored in a wrapper box featuring "Irises" screen. Each notebook has cover in blue, green, and gold. They are reminiscent of vivid colors of the National Treasure screens now on display in Gallery 1. Suited for guest book or sketch book, we hope this set of notebooks will add a small luxury in your life.
¥ 8,500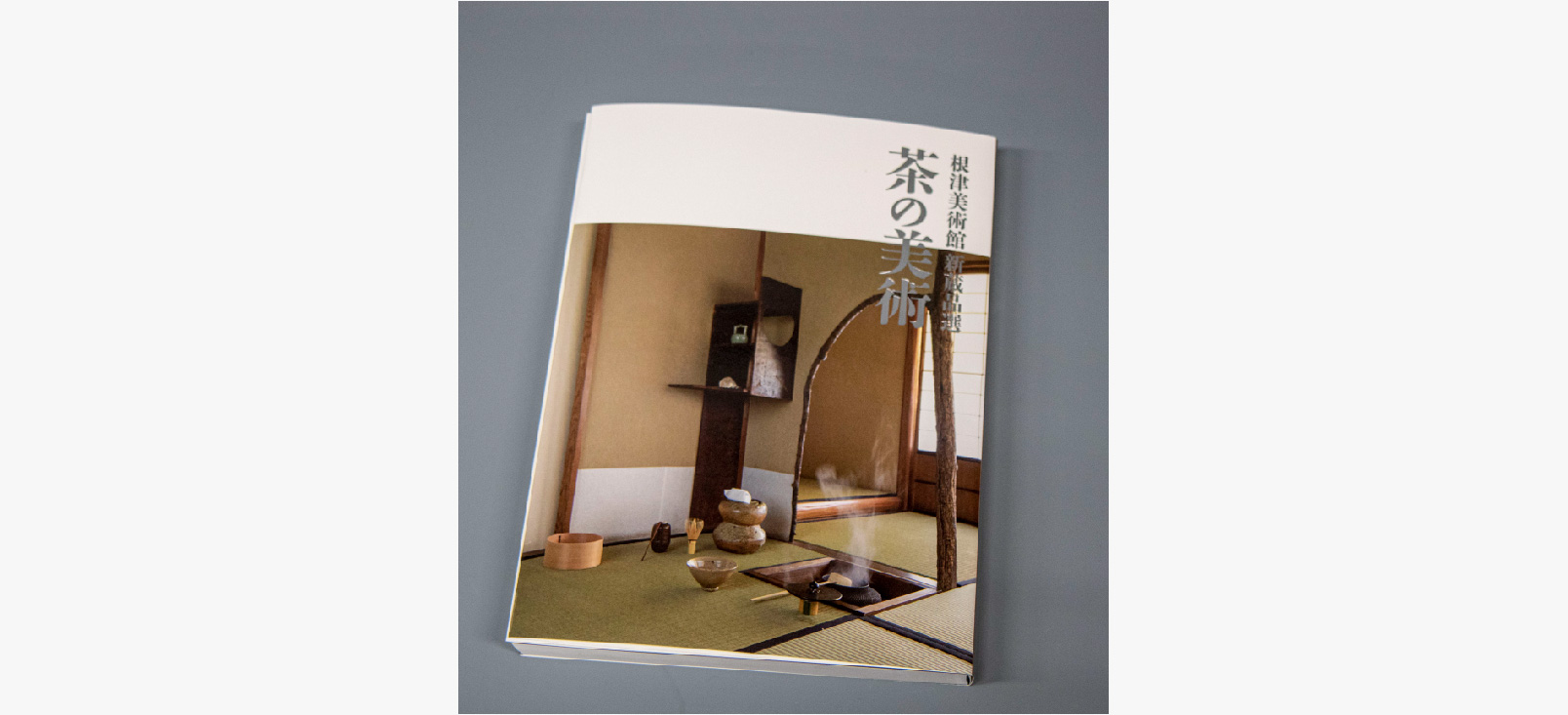 Masterpieces from the Nezu Collection, New Edition
Vol.2 The Arts of Tea Utensils
Reflecting recent research in full English translation, this volume presents 258 significant works from one of the main pillars of the Nezu collection: tea utensils. This volume features many tea utensils shown in the current exhibition "A Tea Gathering with the Irises Screens." Please enjoy masterpieces which had been cherished by tea connoisseurs and Nezu Kaichiro by your side at home.
304 pages
¥ 3,500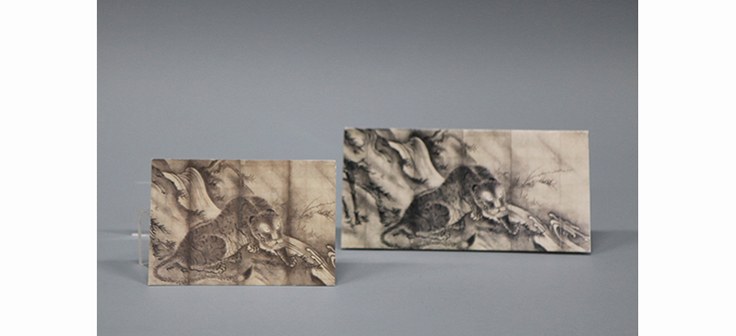 2022 is the year of the tiger in the 12-year cycle of the Chinese zodiac signs. Here are items featuring powerful tiger from "Dragon and Tiger", a pair of six-panel screens by Sesson Syūkei (Japan, 16th century). From left:

| | |
| --- | --- |
| ・Postcard | ¥ 100 |
| ・Double-pocket Clear Folder | ¥ 350 |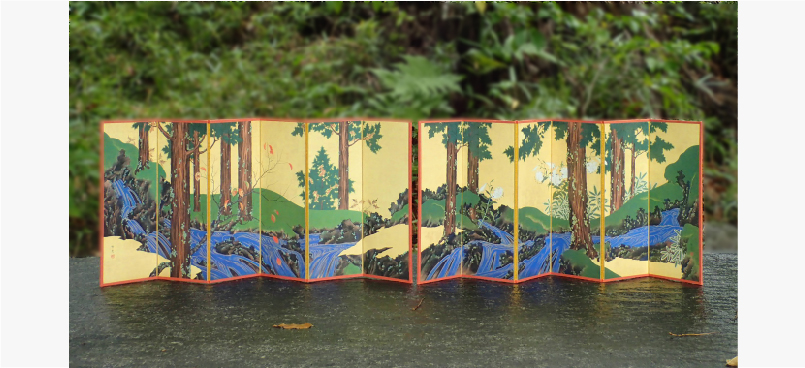 | | |
| --- | --- |
| Miniature Folding Screens Suzuki Kiitsu's "Mountain Streams in Summer and Autumn" | ¥ 8,700 |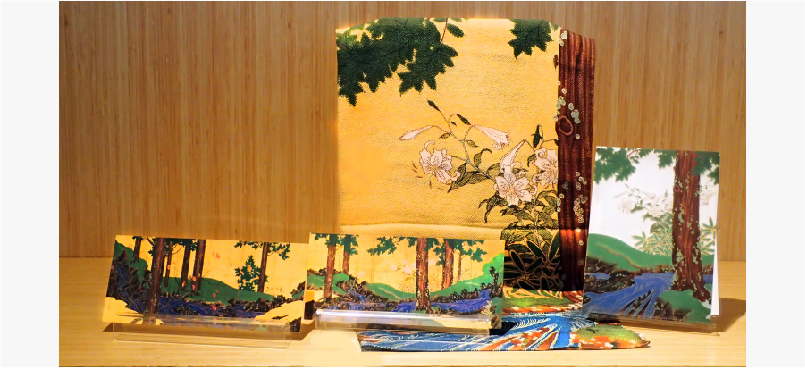 from left
・Postcard Suzuki Kiitsu's "Mountain Streams in Summer and Autumn" left-hand screen
¥ 150
・Postcard Suzuki Kiitsu's "Mountain Streams in Summer and Autumn" right-hand screen
¥ 150
・Wrapping Cloth Suzuki Kiitsu's "Mountain Streams in Summer and Autumn"
  size 68㎝×68㎝ silk made in Japan
¥ 5,000
・A5 Clear Folder Suzuki Kiitsu's "Mountain Streams in Summer and Autumn"
¥ 250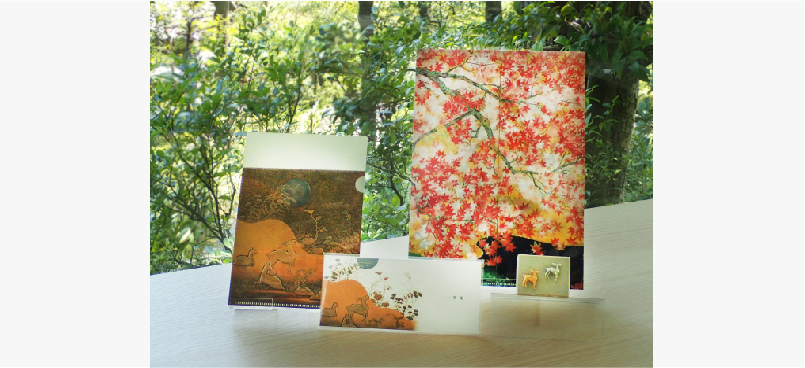 "Writing Box With Deer in Autumn Landscape, known as Kasugayama" Design

| | |
| --- | --- |
| A5 Clear Folder | ¥ 250 |
| Small Note Paper | ¥ 400 |
"Cherry Blossoms in Yoshino and Maple Leaves in Tatsuta" Design

| | |
| --- | --- |
| A4 Clear Folder | ¥ 300 |
Pin, Deer

| | |
| --- | --- |
| Gold | ¥ 1,800 |
| Silver | ¥ 1,800 |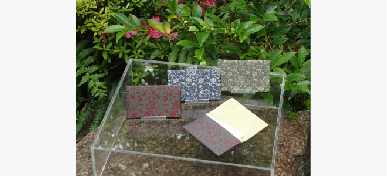 Name Card Holder (from left)

| | |
| --- | --- |
| - Red | ¥ 3,000 |
| - Silver | ¥ 3,000 |
| - Gold | ¥ 3,000 |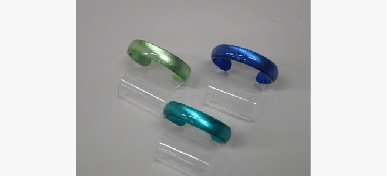 Silver-toned Acrylic Bungle

| | |
| --- | --- |
| - Pale Green | ¥ 6,200 |
| - Blue | ¥ 6,200 |
| - Green | ¥ 6,200 |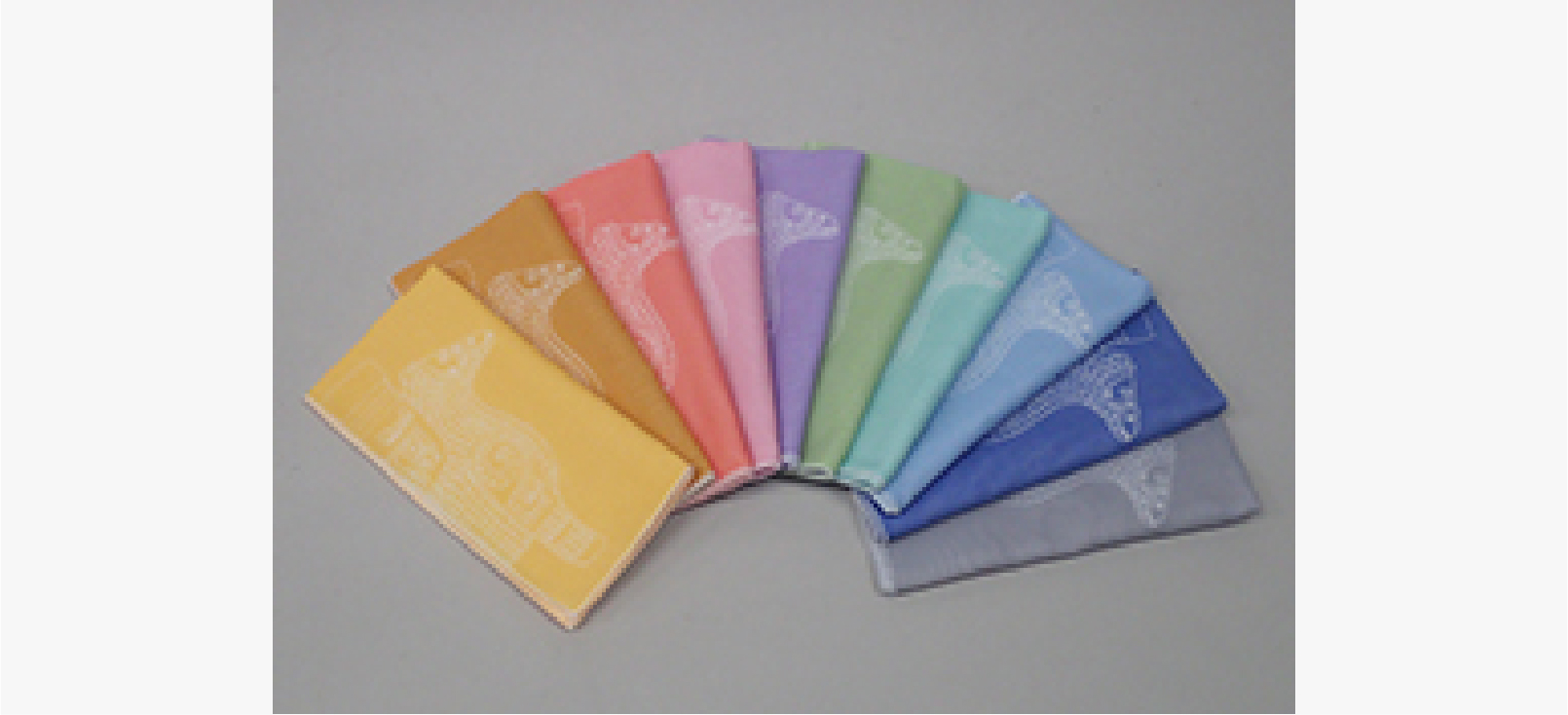 Made of gauze, this uniquely designed handkerchief is highly absorptive and gets softer whenever you wash.

| | |
| --- | --- |
| Handkerchief with "Double-Ram Zun" Design | ¥ 800 |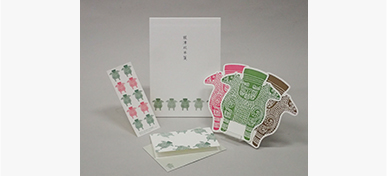 "Double-Ram Zun" Motif Goods:

| | |
| --- | --- |
| Seal | ¥ 200 |
| Writing Paper | ¥ 700 |
| "Double-Ram Zun" Shaped Card | ¥ 200 |
| Greeting Card | ¥ 350 |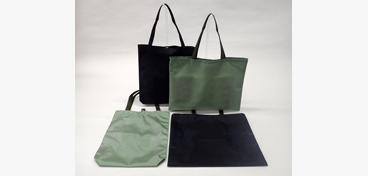 | | |
| --- | --- |
| Nylon Bag, "Double-ram Zun" Vertical Green | ¥ 2,300 |
| Nylon Bag, "Double-ram Zun" Vertical Black | ¥ 2,300 |
| Nylon Bag, "Double-ram Zun" Horizontal Green | ¥ 2,000 |
| Nylon Bag, "Double-ram Zun" Horizontal Black | ¥ 2,000 |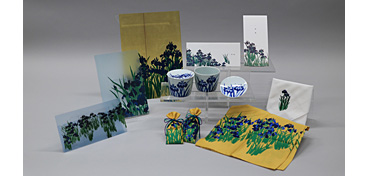 | | |
| --- | --- |
| Double-pocket Clear Folder, "Irises" | ¥ 300 |
| A5 Clear Folder, "Irises" | ¥ 250 |
| A4 Clear Folder, "Irises" | ¥ 300 |
| Small Note Paper, "Irises"  Horizontal | ¥ 400 |
| Small Note Paper, "Irises" Vertical | ¥ 400 |
| Small Cup, "Irises" | ¥ 4,000 |
| Small Plate, "Irises" | ¥ 1,350 |
| Handkerchief, "Irises" Embroider | ¥ 800 |
| Sachet, "Irises" | ¥ 880 |
| Handkerchief, "Irises" | ¥ 1,200 |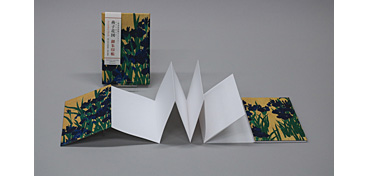 | | |
| --- | --- |
| Accordion Book, "Irises" | ¥ 2,000 |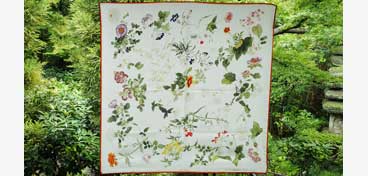 | | |
| --- | --- |
| Scarf, "Autmun Flowers" | ¥ 15,000 |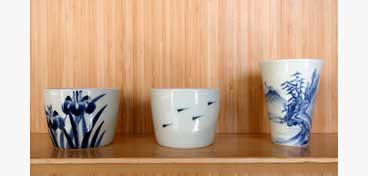 | | |
| --- | --- |
| Small Cup, "Landscape" | ¥ 3,800 |
| Small Cup, "Japansese Killifish" | ¥ 3,500 |
| Small Cup, "Irises" | ¥ 4,000 |
| | |
| --- | --- |
| Original Incense, "Nachi Waterfall" | ¥ 3,240 |
| Original Incense, "Fishing Villege at Sunset" | ¥ 5,400 |
| Original Incense, "Kōrin | ¥ 1,080 |
| Trial Incense, "Nachi Waterfall" | ¥ 648 |
| Trial Incense, "Fishing Villege at Sunset" | ¥ 1,080 |
| Sachet, "Ilises" | ¥ 880 |