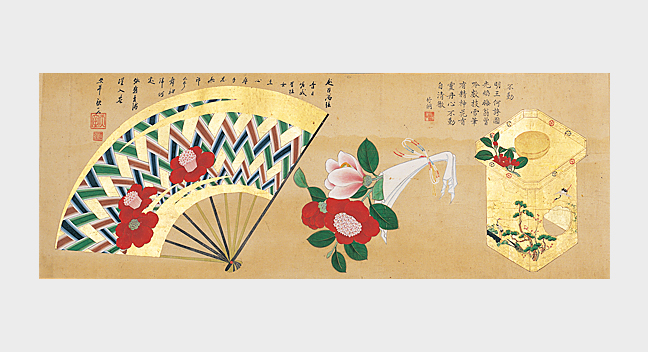 Attributed to Kanō Sanraku
Japan Edo period, 17th century
Two handscrolls; ink and color on paper
h: 34.4cm w: 1202.2cm
Gift of Mogi Katsumi
[10701]
The One Hundred Camellias are a pair of scrolls titled "main scroll" and "later scroll," with each scroll consisting of 13 sheets of paper pasted into scroll form. More than 100 camellia varieties are depicted on the two scrolls. The painter of this floral beauty is said to have been the founder of the Kyo-Kanō school of painters, Kanō Sanraku (1559-1635). Due to the genetic weakness of hybridized camellias, many of the varieties depicted here are no longer extant. The One Hundred Camellias scrolls are thus both a beautiful art work, as well as an important botanical record of the camellia species.