HOME > Exhibitions > Past

Museum Collection Exhibition
The Art of Cultural Amusement


Saturday, December 17, 2022 – Sunday, Feburary 5, 2023
Closed
Mondays, except January 9, and closed on January 10
Monday, December 26, 2022 – Wednesday, January 4, 2023
Hours
10 a.m. - 5 p.m.(last entry: 4:30 p.m.)
General admission
Adult 1300 yen, Student 1000 yen
Gallery
1/2
When you hear the word "amusement," what image springs to mind? Historically speaking, amusements were not mere fun and games. Japanese aristocrats engaged in poetry contests (uta-awase ) to polish their literary skills and elevated the game of kemari football to a family art form. Warriors positioned riding and archery as training in the martial arts. Amusements were both enjoyable activities and means for acquiring skills to improve the participants' lives and social standings.
 This exhibition explores the many faces of amusements as cultural practices through calligraphic works and paintings in our collection, with a focus on folding-screen paintings. Please enjoy them in conjunction with a glorious rivalry of golden folding screens, a worthy welcome for the new year.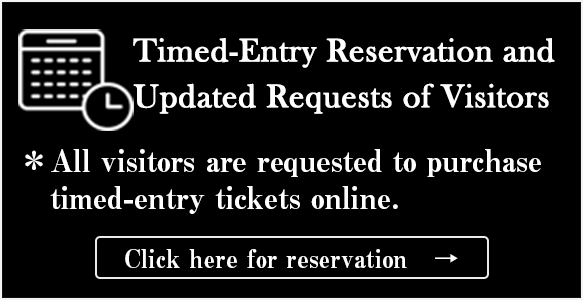 Kemari Ball Game under Cherry Blossoms
Japan Edo period, 17th century
Nezu Museum
Kemari, a type of football, involves kicking a deer-hide ball and competing over the number of kicks made and the elegance of one's bearing. It was the classic outdoor amusement enjoyed by nobles, who improved their skills to the extent that the Asukai and other schools of Kemari formed. This painting presents a game of Kemari underway in the front garden of a residence, under cherry trees in full bloom.
Surviving Portion of the Record of a Poetry Contest Held by Empress Jōtōmon'in Shōshi (Jikkanbon Collection of Poetry Contests)
Attributed to Prince Munetaka
Japan Heian period, 11th century Nezu Museum
Gift of Uemura Wadō
Poetry contests, uta-awase, were amusements in which the participants were divided in to the left and right teams and competed over the quality of the poems they presented. The goal was improving their abilities at poetic composition. This handscroll, which is being exhibited for the first time, records a poetry contest held by Empress Jōtōmon'in Shōshi, Emperor Ichijō's wife. It it, twenty poems on the subject of the beauty of chrysanthemum blossoms were composed in ten rounds.
The Tale of Tamamo-no-mae
Japan Muromachi period, 16th century
Nezu Museum
This is the tale of Tamamo-no-mae, a beautiful woman who won the favor of Retired Emperor Toba, and her extermination when it was discovered that she was actually an elderly two-tailed fox. Kazusa no Suke and Miura no Suke are polishing their martial arts in order to kill the fox. The practice shown here, a dog chase, with hunters on horseback, using arrows with covers on their tips, was popular among the warrior class in the twelfth to sixteenth centuries.
House of Pleasure Screen
Japan Edo period, 17th century
Nezu Museum
This folding scene presents the many amusements held inside a palatial building, and in its garden, in the licensed quarter. The sights include a biwa performer reciting The Tale of the Heike, an entertainment that became widely popular among the common people during the Edo period (1600-1868).