HOME > Exhibitions > Past

Museum Collection Exhibition
Power of Pattern


Hand in Hand with Technique

Saturday, January 8 – Sunday, February 13, 2022
| | |
| --- | --- |
| Closed | Mondays, except January 10, and closed on Januay 11 |
| Hours | 10 a.m. - 5 p.m.(last entry: 4:30 p.m.) |
| General admission | Adult 1300 yen, Student 1000 yen |
| Gallery | 1/2 |
The designs and motifs found in craft objects harmonize with their forms to generate an indescribabl fascination. In creating one of these works, the artisan devises and chooses the most appropriate techniques for realizing the designs and then produces the designs, making effective use of those techniques' characteristics. Technique and design have a mutual relationship of creating and being created yet, united, they create a world in which design is hand in hand with technique. This exhibition is our first since 2010 to make textiles its main theme. With two themes, "exploring techniques from designs" and "exploring designs from techniques," it examines those relationships through not only textiles but also ceramics, lacquerware, and metalwork. The world crafted when design and technique are one is on display for your enjoyment.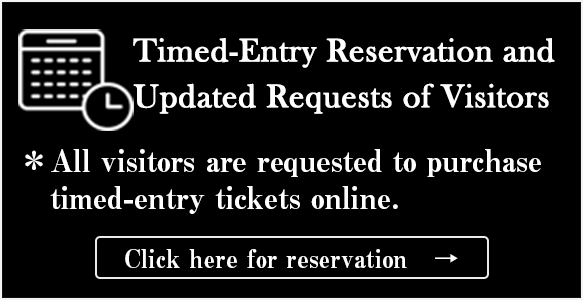 Nuihaku Robe with Pine Tree Covered with Snow Design on Brown Ground
Japan Momoyama-Edo periods, 17th century
Nezu Museum
This nuihaku robe has a tatewaku (rising steam) pattern background and pine trees topped with snow embroidered on it. The snow-covered trees seem at first to be lined up quite evenly, but they are not a simple repeat design. They are placed, following the direction of the trunks, to create a good sense of balance. Placing motifs freely and dynamically is an effect that embroidery makes possible.
Karaori Noh Costume with Net and Flower Design
Japan Edo periods, 19th century
Nezu Museum
This karaori robe has a layered design composition, with nets as the ground and autumn plants and butterflies in flight woven in the foreground. The regularly repeating designs are positioned on a dangawari ground, dyed in alternating blocks of red and light blue, generating a sense rich in change.
Eight-lobed Mirror with a Dragon and Clouds
China Tang dynasty, 8th century
Nezu Museum
Gift of Murakami Eiji
The dragon, its jaws open wide as it faces the knob in the center, its body writhing, fills the inner section of this dragon-and-cloud mirror. The almost tender style of this mirror, with its fine scale pattern and other details, is possible through the use of metal casting.
Tray with Dragon Design
China Ming Dynasty, Wanli era dated 1589
Nezu Museum
Carved lacquer is a technique in which multiple layers of lacquer are applied and then carved to produce the design. The three-dimensionality produced by the precise carving, from the dragon motif in the uppermost layer to the background pattern on the lowest layer, fills this work with power